UPFINA's Mission: The pursuit of truth in finance and economics to form an unbiased view of current events in order to understand human action, its causes and effects. Read about us and our mission here.
Reading Time:
5
minutes
Headlines skew reality because the media's goal is to generate attention, not get the specifics of stories correct. This isn't to say all or even most journalism is bad; it's simply that journalists don't think like investors and headlines aren't always accurate. It's easy to misinterpret trends if you read poor articles and then follow the price action. It might work initially, but you'll be crushed in the end. There is always a new trend for the media and the market to hype, but most don't live up to reality. A recent hyped technology that had a smaller impact than expected was 3-D printing (it's too early to judge cryptocurrency).
Reading mainstream stories and watching the 3-D printing stocks soar made some people think that by now everything would already be 3-D printed just like magic. Technology can be like magic, but in this example the 3-D printing stocks were filled with hot air. The chart below shows the rise and fall of 3D Systems. 

Many investors and journalists didn't understand the technology. You can't just believe the firms delivering hype without being skeptical and asking detailed questions. There's more to the story than the surface level answers by marketing masters.
Death Of Retail Didn't Happen
The hype machine we will discuss in this article is the opposite of 3-D printing because instead of euphoria, fear was exhibited. The death of retail was overexaggerated. We've seen bankruptcies such as Toys R Us occur and we've seen online sales grow to 9.6% of total sales, but the idea that physical stores would somehow stop existing was a farce. The chart below shows the historical Google searches for the term "retail apocalypse." An apocalypse is a great story for the media because it instills fear for people who love to shop and for workers in the industry. (Must be great for ad clicks…)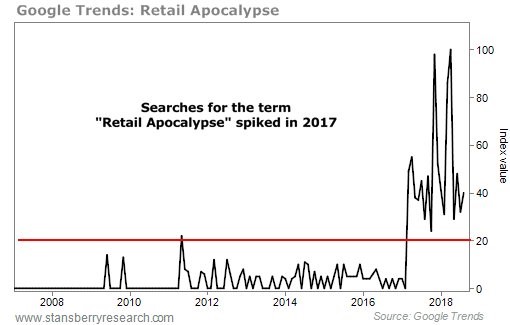 In an attempt to get ahead of the curve, people extrapolate what they think is a trend and don't stop and wonder about the details of how it will work out. Stores won't all be eliminated. Stores are becoming hubs for pickup of online orders; stores are also implementing digital coupons. The difference between shopping online and in the store is becoming smaller which means there won't be a clear separation between in store and online sales like there has been.
Great Stock Performance
The most important aspect of this trend is how it affects investments. An interesting comparison to retail is cigarette smoking in that there is a trend of less people smoking, yet cigarette stocks have been amazing performers. The old model of selling cigarettes is dying, but e-cigarette sales are a growth engine. Retailers are investing in their online presence. Their stocks are soaring, which means the media was completely wrong when it implied you should sell these stocks. The media doesn't make stock picks, but saying there is an apocalypse doesn't exactly inspire confidence. As you can see from the chart below, the S&P retail fund has done well in 2018. The consumer is strong, so these firms are doing well. It's not an apocalypse.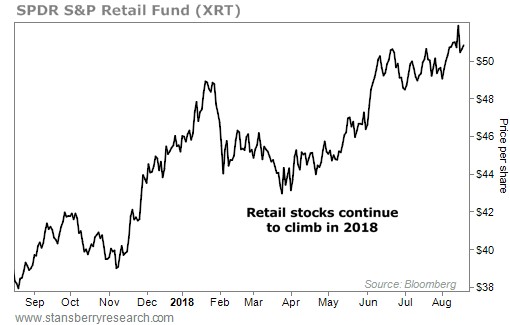 Is The Consumer Strong?
The 6.6 point drop in the current economic conditions in the consumer sentiment report in August was daunting. The recent negative real wage growth could be a problem. We also saw the buying situation for housing and vehicles were terrible by this cycle's standards. However, real consumer spending growth was 4% in Q2. It's an open ended question if Q3 spending will be strong. The recent earnings reports from some of the top retailers give us hard data insight into how the consumer is doing which a sentiment indicator can't.
Great Retail Earnings
Wal-Mart's same store sales growth was the fastest in over 10 years as growth was 4.5% which beat estimates for 2.4% growth. Wal-Mart's online sales were up 40%, showing how retailers are adapting. Keep in mind, it's not like the discrepancy between the sentiment report and this earnings report exists because they are in different periods. Wal-Mart is also optimistic about the future as its full year guidance was raised from $4.75-$5 to $4.90-$5.05. This means August sales are going well.
Wal-Mart isn't the only big retailer doing well. Target's same store sales growth was 6.5% which was its highest growth rate in 13 years. This beat estimates for 4%. Online sales were up 41% and guidance increased from $5.15-$5.45 to $5.30-$5.45. TJX also had great results as same store sales growth was 6% which beat estimates for 2.2%. It raised its same store sales growth estimate to between 3% and 4% which is above the estimate for 2.4% growth. Finally, Nordstrom outperformed estimates as same store sales growth was 4% which beat the consensus for 0.8% growth. Same store sales guidance was raised from 0.5%-1.5% to as much as 2%.
U.S. Over Retailed
Some investors only looked at retail square feet per capita and pronounced all retail dead without considering the sales per capita is also strong. America should see store closings, but the growth in the consumer is still making this a great time to be a retailer just like it would be in any cycle.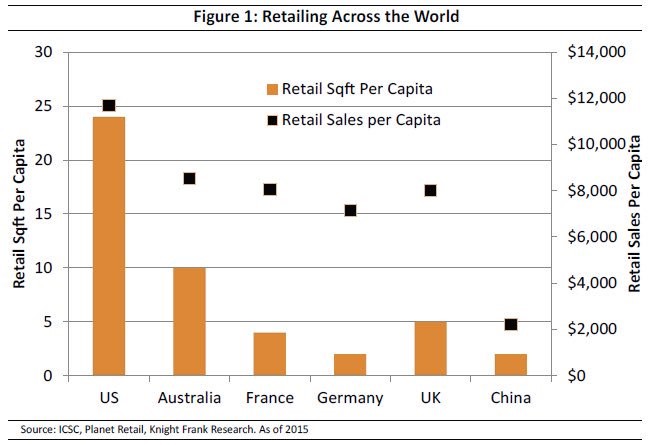 Amazon The Giant
We can't write an article on e-commerce and retail without discussing the elephant in the room which is Amazon. As you can see from the chart below created by Visual Capitalist, Amazon has a 49.1% market share in e-commerce and accounts for 5% of total retail sales. This helps explain why Amazon is the 2nd highest valued company in America. Amazon could face anti-trust regulation in the next 10 years if it keeps growing its share of the total retail pie. Amazon's 36 hour Prime sales offering in 2018 generated an astounding $4.2 billion in sales which was a new Prime Day record.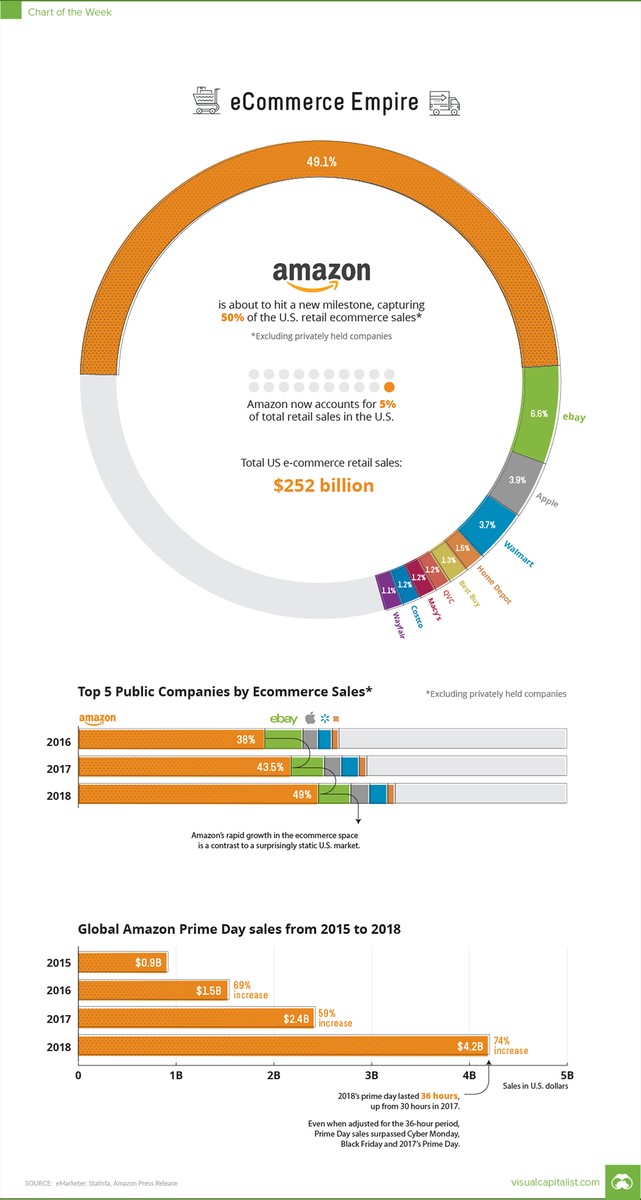 Conclusion
The hype machine was wrong again as retail isn't dead. Whether you are evaluating 3D printing, retail, cryptocurrency or any other trend, the simplest narrative is often the most incorrect. Moreover, nothing is imminent when it comes to investing. Always focus on the details and do your own due diligence. The worst part of this situation is catchy headlines and one-sided stories attract the most attention, whereas something as practical as this article (we think) will only be seen by a few. 
Have comments? Join the conversation on Twitter.
Disclaimer: The content on this site is for general informational and entertainment purposes only and should not be construed as financial advice. You agree that any decision you make will be based upon an independent investigation by a certified professional. Please read full disclaimer and privacy policy before reading any of our content.