UPFINA's Mission: The pursuit of truth in finance and economics to form an unbiased view of current events in order to understand human action, its causes and effects. Read about our mission here.
In this article, I will review the economic and financial news from the past quarter, quarter one (Q1), just ended on March 31st. It was a good week for stocks as you can see from the chart of the S&P 500 below. The S&P 500 was up 0.80% for the week and is now up 5.53% year to date.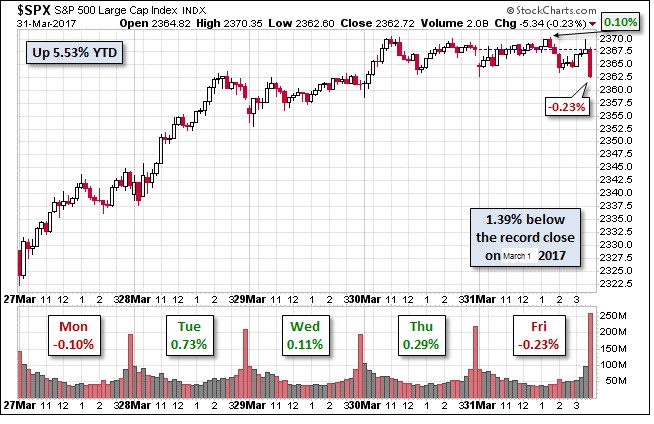 The chart below breaks down the performance of some sectors within the S&P 500 for the quarter: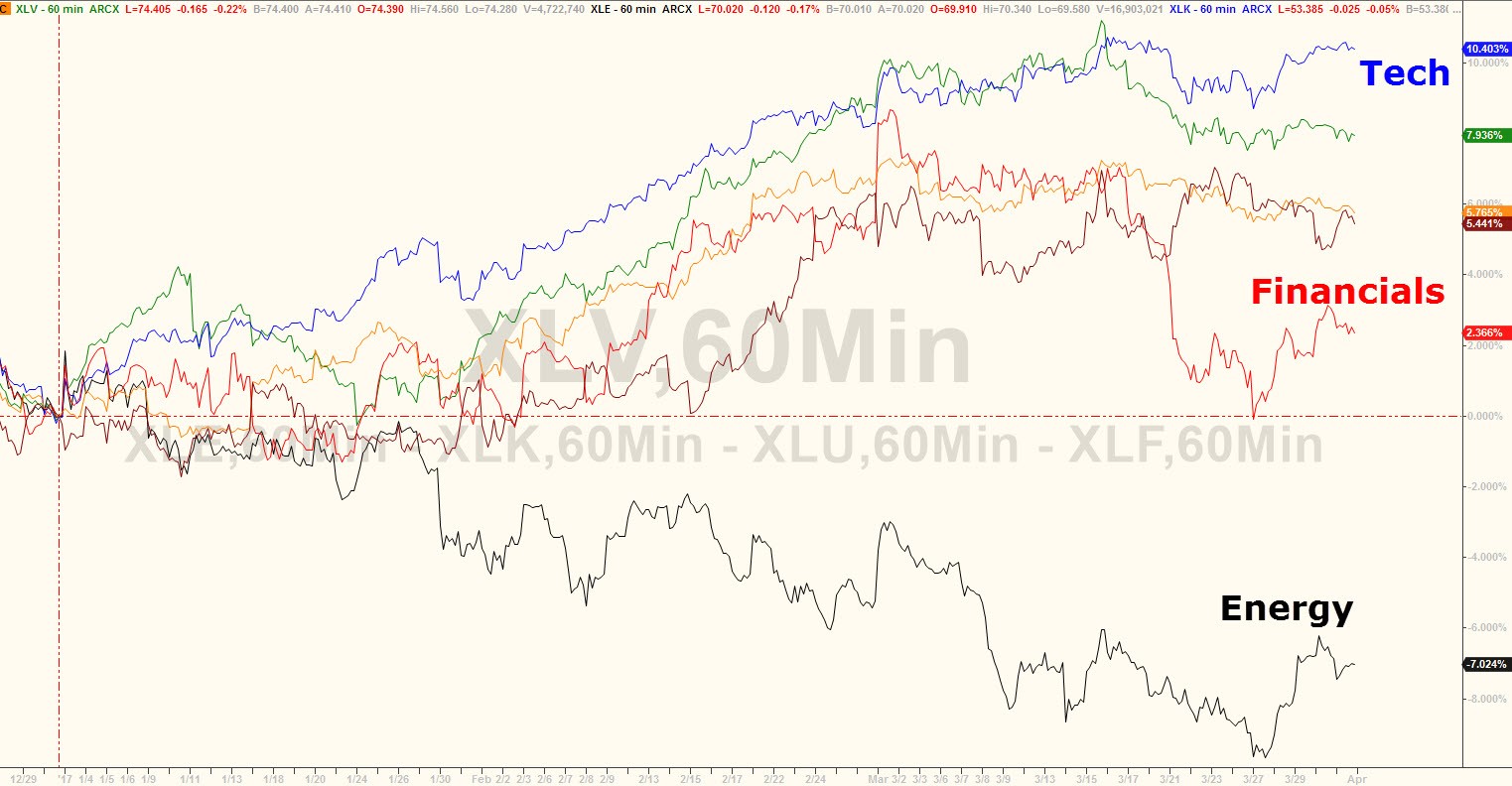 The biggest winner of the quarter was tech and the biggest loser was energy. Energy had a weak quarter because WTI oil was down 6% for the quarter. Technology stocks helped the Nasdaq have its best quarter since Q4 2013. There isn't as much of a clearly defined reason for why technology stocks rose as there is for energy. Technology is a highly diverse sector which has individual components that are driven by different things. For example, Facebook and Intel are both technology stocks, but one is an advertising company and one is a semiconductor company.
Technology
Here are a few potential hypotheses for why technology stocks did so well. You can decide for yourself which possibilities make the most sense to you. The first possibility is that we entered a risk-on moment where investors became more aggressive. When investors become aggressive, they sell consumer staples and utilities and buy technology and consumer discretionary stocks. Another reason why tech stocks may have done well is because inflation has moderated. Traditionally technology stocks do badly when inflation rises as it causes the risk-off trade to go into effect. Stocks as a whole had low multiples during the high inflationary period in the late 1970s; now stocks have high multiples because inflation is low. As you can see in the chart below, the ten-year inflation breakeven rate was flat for Q1 2017. This comes on the heels of a significant increase in the second half of 2016.
One other possibility for why technology had a great quarter is because its biggest companies did well. Apple was up 24.04% in Q1. Apple has a 15% weighting in the S&P's technology sector index. When Apple is doing great, technology usually does well. Apple can even drive the whole market higher as it has a $753.72 billion market cap as of March 31st. Facebook, the third biggest stock in the S&P technology index, was up 23.47% in Q1.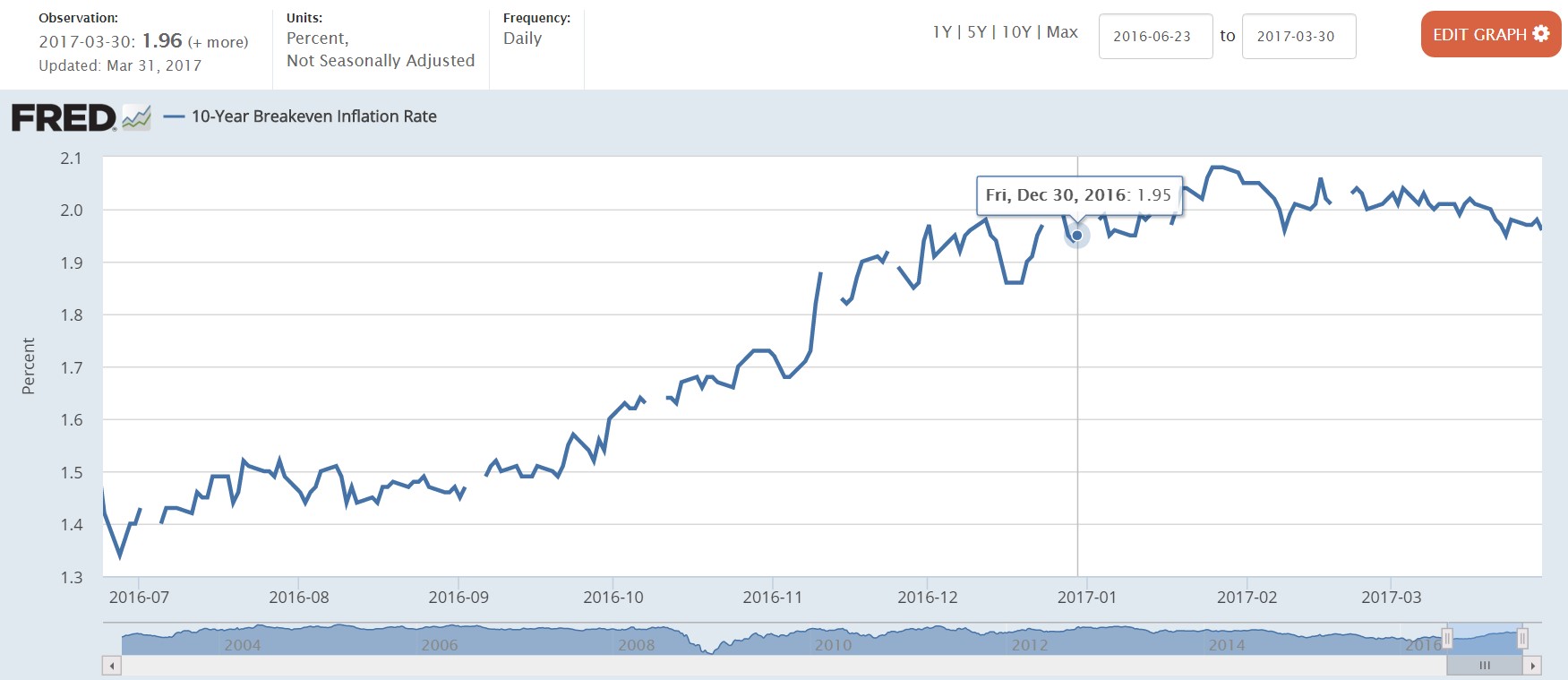 Another reason technology may have done well is related to the previous one. Because the large firms which drove the tech sector higher are also the largest companies in the market, they are benefiting from the point I made in a previous article.
The largest companies are receiving investments from large institutional investors, such as the Swiss Central bank. The three stocks I mentioned in my last article were Apple, Google, and Amazon which are all technology stocks. Microsoft, the second largest firm in the S&P technology index, is benefiting from low interest rates as its doing massive bond issuances and using the money to buy back its stock. Last summer, Microsoft did a $19.75 billion bond offering and then a month later added an incremental $40 billion to its buyback program. This year's largest bond offering is Microsoft's $17 billion offering.
The final reason why technology companies had a great quarter could be because they stand to benefit the most from the proposed repatriation tax holiday. Based on rhetoric, President Trump stated his interest in bringing over $2 trillion in overseas capital back to America by lowering the corporate tax rate and doing a special one-time repatriation holiday for capital stored by US companies overseas. Speculation has it that in theory this capital raised from the taxes collected would be used for infrastructure spending.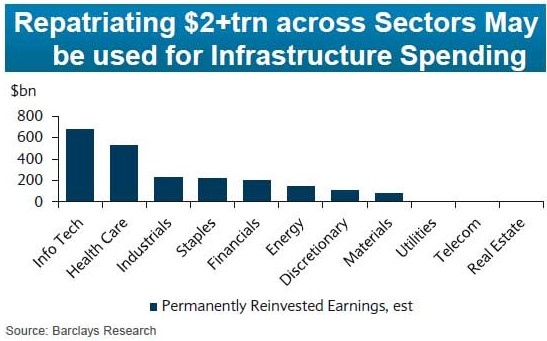 Energy
Even though energy had a poor quarter, largely due to oil prices falling in Q1, this past week was a great week for the commodity. WTI was up 5.5% and Brent was up 4.0%. There are three possible reasons for why oil had such a good week. The first is that gasoline stocks fell back into the five-year range as you can see from the chart below. U.S. crude production had its biggest quarter since Q3 2014. Even with that production burst, gasoline stocks fell which signals the U.S. consumer may have increased its consumption (driving) which is a good signal for the health of the economy.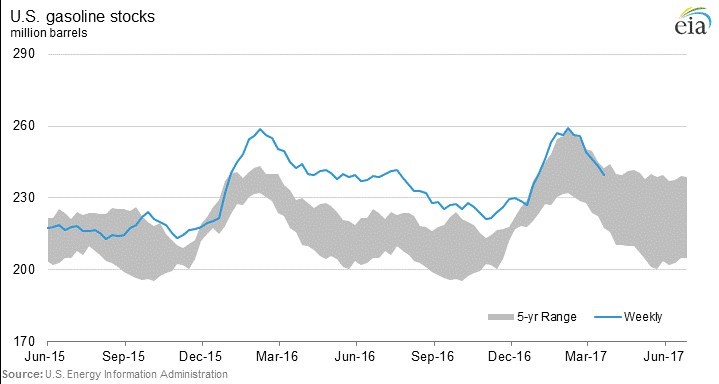 The second reason oil rallied is because Libya's production decreased. Libya's largest oil field, Sharara, was shut in. This lowered Libya's oil production from 700,000 barrels per day to 560,000 barrels per day.
The final reason why oil rose is because of speculation about what OPEC will do with its production cuts.
[subscribepage]
On May 25th, the oil ministers will meet to decide whether to extend the production cuts which were started this year. The oil ministers act like the Fed in that they offer forward guidance to move the price of oil to where they want it to be. If oil falls, they can talk tough about production cuts and if it rises, they can speak softly. OPEC's goal is to increase oil prices, but it also wants to maintain its market share as U.S. shale production has stolen some of it in the past few years.
Here is a chart indicating non-OPEC oil supply growth:

Financials
As you can see in the chart above, financials significantly underperformed the benchmark which is surprising because the Fed raised rates and is expected to raise them twice more by the end of the year. When the Fed raises rates, it increases the bank's net interest margins. The main reason why banks fell is because lending growth has begun to decelerate. As you can see in the chart below, total loan growth went from growing about 7.5% to now growing at about 4%.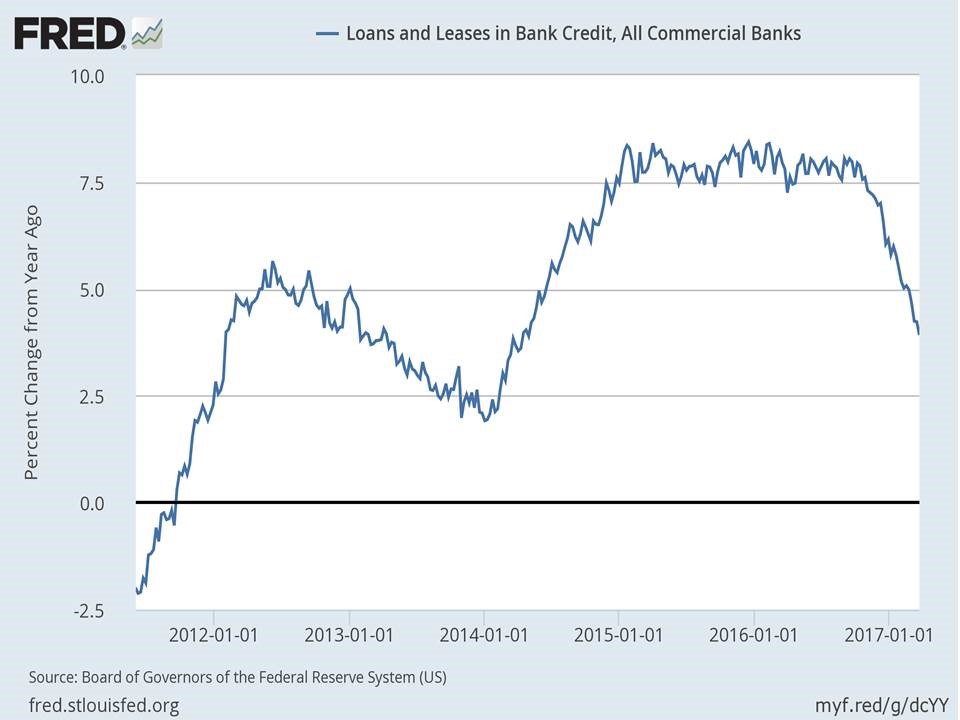 Lending growth isn't just significant for the financials. Short-term business cycles are determined by the willingness of banks to give out credit. As you can see in the chart below, when Commercial and Industrial lending has started to decrease in the past, it has been a good recession signal.

Commercial and Industrial lending has started to decrease recently once again. Investors should be vigilant in looking for signs that the next recession is closer than it may otherwise seem to be.
Have comments? Join the conversation with us on Twitter.