There's an endless debate over what is priced in the market. Sometimes it seems like an obvious and predictable occurrence moves markets even though it should have been priced in. Other times a big event fails to move the market. Finally, the most confusing action is when the market moves in the opposite direction of what the news suggests when analyzing it objectively. Predicting events is only one part of investing. The second part is knowing how the event will move the market. 
Synchronized Growth Ends
This scenario played out in the Q1 2018 earnings season. The stock market plummeted in the end of January and early February during earnings season. The correction was caused by record optimism switching to pessimism. Traders crowded into the short VIX trade in 2017 and January 2018 which unwound quickly when everyone ran for the exit at once. There are always periods where stocks are overbought and oversold. That was an extreme example of one as stocks had near record low volatility in 2017 and early 2018. The bull market run was based on the cyclical rebound in the global and domestic economy as well as the anticipation and successful passing of the corporate tax cuts and repatriation tax holiday.
The chart below demonstrates the synchronized growth indicator which shows the net percentage of countries with a PMI above 50.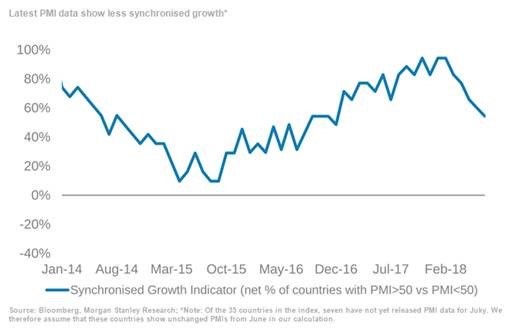 The net percentage of countries with a PMI above 50 was extremely high in 2017 and early 2018 as the economy was in a global synchronized expansion. Since then, some economies have weakened while the US economy has remained strong. This fundamentally explains why U.S. stocks have stayed below the January peak, but haven't had as sharp of a correction as other markets.
Earnings & Estimate Changes Matter
A shift in sentiment and the expectation that a peak in global synchronized growth was coming effected stocks negatively. At the time, investors were wondering if the great earnings season was already priced in by the 2017 rally in stocks. They either feared a peak in earnings growth or that stocks were priced for perfection. Some even went as far as to claim heightened earnings growth didn't matter. There are always many factors which can affect stocks. We contend that earnings reports and future estimates still matter in the intermediate term. Headline shifts causing short term noise doesn't take away from the great results this year. Changes to future estimates are less likely to be priced in because they are always happening.
Great Q2 Results
We've seen the fundamentals take the narrative in July with the stock market having its best month since January since great results have been reported. The 3 Earnings Scout tables below summarize the results as of Thursday morning when 381 firms reported earnings.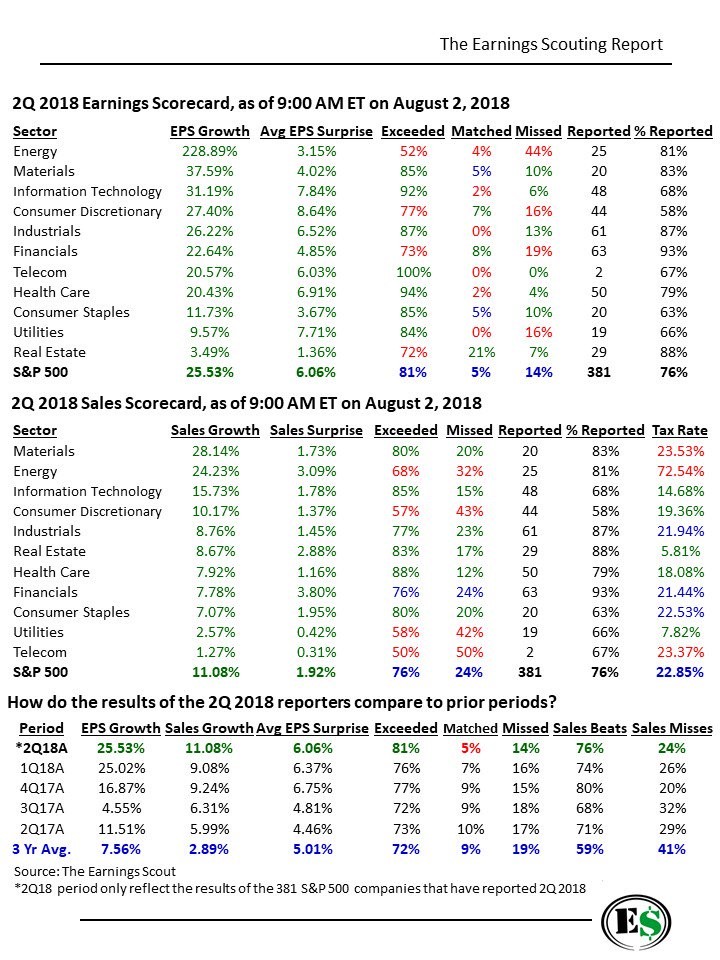 The fact that 81% of firms beat estimates is probably the least interesting part of this reporting season because management teams often manipulate analysts to lower the bar enough that they can beat expectations. It has become a charade. That's not to say this hasn't been a good quarter of results so far. There has been EPS growth of 25.53% and an EPS surprise rate of 6.06% which is above the 3 year average of 5.01%.
2018 has witnessed a perfect storm of events which has led to such high earnings growth. There were the tax cuts, increasing oil prices which caused energy earnings to grow in the triple digits, a boost in fiscal spending, relaxing of regulations particularly in finance, and a cyclical improvement which started in the second half of 2016 that has continued to pick up momentum. This cyclical momentum is seen in the sales growth rate which isn't helped by the tax cuts. As you can see in the second table above, the sales growth rate was 11.08% and the average beat was 1.92%. Every sector has a positive beat rate. Tech is extremely important to the stock market as it is currently constructed (changes are coming on September 28th). It had a 7.84% average EPS beat and a 1.78% sales surprise. The fact that this sector is the most international hasn't hindered results.
Finally, we have a summary of this report in comparison to recent quarters at this point in their earnings season. This quarter has been even better than Q1 as sales growth is 2% higher and EPS growth is 51 basis points higher. Coming into this quarter, expectations were higher than Q1, which means Q2 needed a lower average EPS surprise rate to surpass Q1 numbers.
Estimate Changes Are Paramount To Returns
Estimate changes are very important because it's tough to argue they are priced in as they are on the bleeding edge of data. The market is always focused on the future; changes to what analysts think the future will bring are important. The chart below shows the tech sector has seen a decline in earnings revisions for the first time since January 2017. 
This chart has a ton of noise, meaning it is food for thought rather than support for a bearish thesis. There needs to be sustained weakness to justify a bearish prediction.
The table below is the most important one to measure stocks by because it shows the changes to future estimates based on current results. 

Recently, Q3 estimates have fallen slightly as expected EPS growth is down 85 basis points since the beginning of July. While this isn't good news, it's tough to sell stocks based on this because expectations were very optimistic on July 1st. Q3 is expected to be the growth rate peak of this recent cyclical upturn. In July, Q4 and Q1 estimates increased. Investors are focused on how steep the growth downfall will be in 2019. High single digit growth is enough to sustain this bull market.
One way to turn growth into a decline would be a severe trade war. We don't know how earnings will be affected by a trade war because we don't know the specific tariff rates and which countries that will implement them. However, it's interesting to see Goldman Sachs' estimate that earnings will fall 4% in 2019 if there is a severe trade war.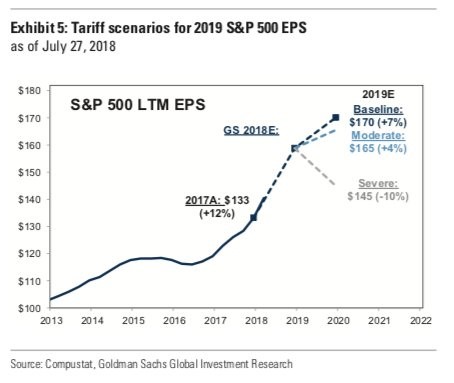 Conclusion
Stocks are riding high as a confluence of factors has made 2018 earnings growth spectacular. Investors are worried that the effects of the fiscal stimulus will wear off in 2019. A higher Fed funds rate and tougher comparisons will also limit growth. A trade war could push earnings growth to the negatives.